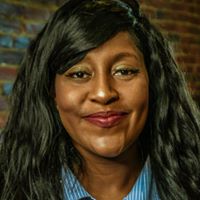 17 Jun

JaNae Martin

JaNae is a native of Louisville, Kentucky, and an alumna of Louisville Central High School and the University of Louisville. While at UofL, JaNae served as President of the Thurgood Marshall Pre-Law Society. She was selected to attend the National Conference of Black Political Scientists as a Student Panelist in 2006. As a college senior, JaNae served as an intern for the Kentucky Legislative Branch and volunteered for the National Democratic Campaign Committee. She has a Bachelor of Science in Political Science with a minor in Pan-African Studies.

JaNae has been very active in Girl Scouts and was a National Delegate representing Kentucky during the 2014 National Scouts Convention. She served as Troop Leader for one of the largest Troops in West Louisville for over 10 years.  JaNae served as Vice President and President for the Kentucky Chapter of the Association of Legal Administrators during 2020 and 2021 respectively.  This organization is the premier professional organization for Legal Admisitatrsators in the Country. She has hopes to soon fulfill a national position within the organization, which is headquartered in Chicago. 

JaNae has a special interest in Civil Rights Law and diversity and equality in all aspects of the legal field from an HR and Administrative perspective.  The business of running a Law Firm is her BUSINESS and she takes pride in what she does.  She has a passion for activism and enjoys reading, cooking, and spending time with her Family.

JaNae Martin has been working with John Helmers for over 20 years, and he is a better lawyer for it.